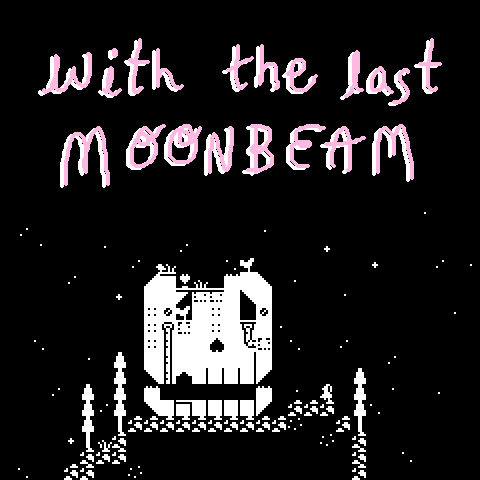 with the last moonbeam
~*~ STORY ~*~
MOSS is a mender on the seventh moon of Bear, where she repairs machinery and electronics for her neighbors.

One sunny afternoon, she's awoken from a nap to learn that the MOONHEART is broken! Without it, no messages can be sent off-moon. And what's worse, tonight is the night of the lunar alignment...
Walk, jump, climb, and glide through this platformer adventure as Moss works to mend the Moonheart. Along the way, you'll meet the other inhabitants of Moss's home moon... and perhaps find some secrets too.
~*~ WEBSITE ~*~

>> https://with-the-last-moonbeam.neocities.org/ <<

Visit WITH THE LAST MOONBEAM's website for the TRAILER and other EXTRAS.

~*~ PLAYING THE GAME ~*~
D-PAD LEFT/RIGHT

WALK

* Walk around.

* Select dialogue options.

D-PAD UP/DOWN
CLIMB

* Climb cliffs and walls.

A
(A)CTION

* Talk to people, pick up items, and advance dialogue.

B
(B)OUND

* Jump!

L
MOON(L)AMP ABILITIES

* On the ground, GUIDE mode points you to your goal.

* In the air, GLIDING mode lets you float through the sky.

* While sitting, RETURN back to the last BENCH you sat on.

R
(R)EST

* Sit anywhere when you're tired to fill your HEART.

* Sit on a BENCH to SAVE your progress.

* Press R again to stand.

SELECT/START
PAUSE

* Pause or resume the game.

~*~ SOFTWARE COMPATIBILITY ~*~
| | |
| --- | --- |
| GBA COMPATIBLE | To play, download the ROM and use with a GBA compatible system or emulator, such as mGBA. |
For offline play, I recommend using mGBA, since that's the emulator I've tested. Others should work, but saving in particular is not guaranteed to work with other emulators, so you may wish to use save states.

You can also play in your browser using the web player on this page, which is powered by webretro. Keep in mind that webretro uses cookies to store save data, so you must enable cookies in your browser to use it.

Download
Click download now to get access to the following files: